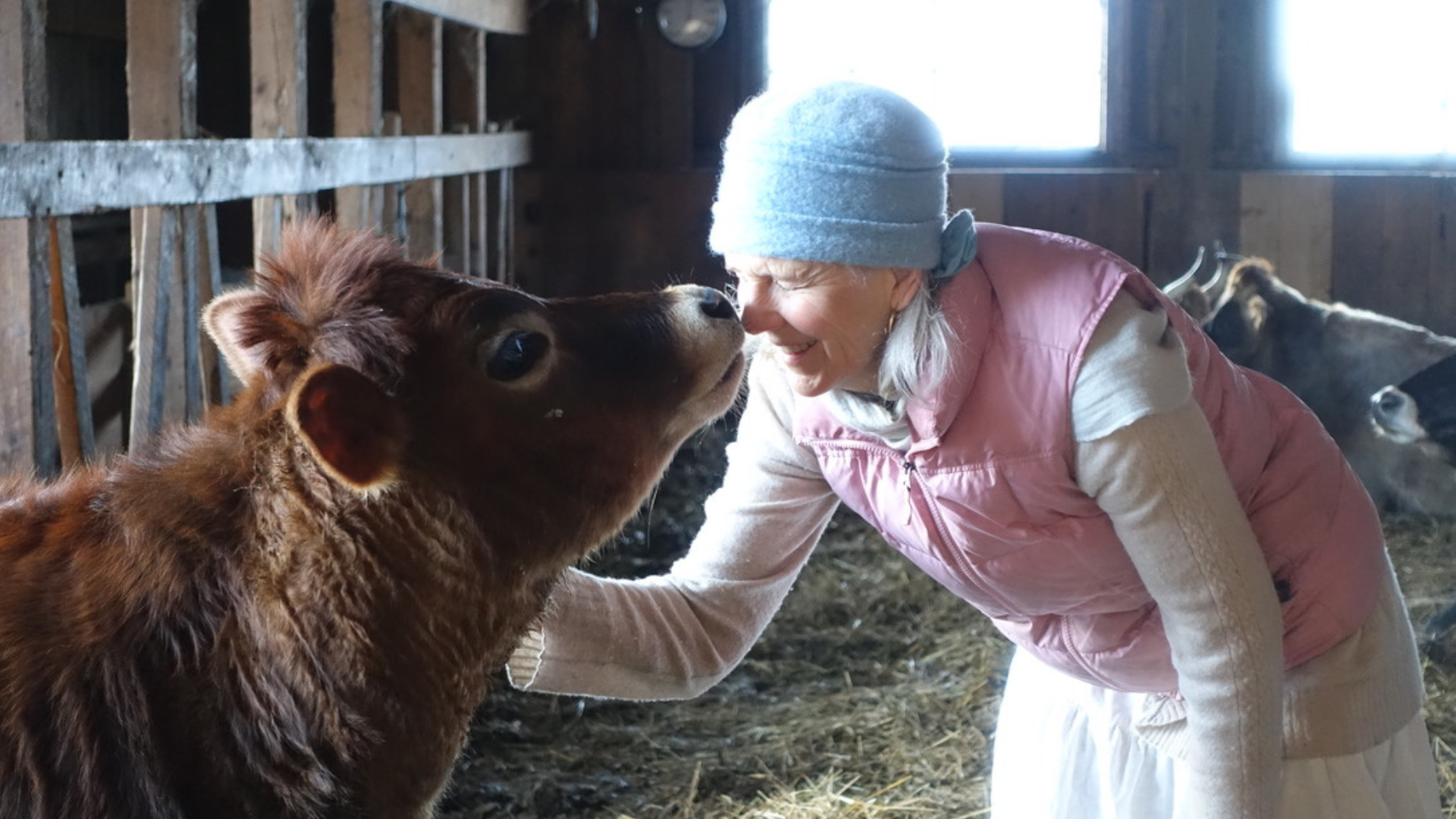 Lisabella (the youngest member of the herd) and Katherine in the bright cozy barn. The cows' winter coats are thick and soft to help them stay warm.
We have some exciting updates to share this month!
Celebrating 1,000
Thank you so much for being part of The Cows Foundation community! We now have over 1,000 subscribers–all people like you who are passionate about the kind and loving care of cows. We are so grateful to have you in our community. Our work is only possible thanks to everyone joining together!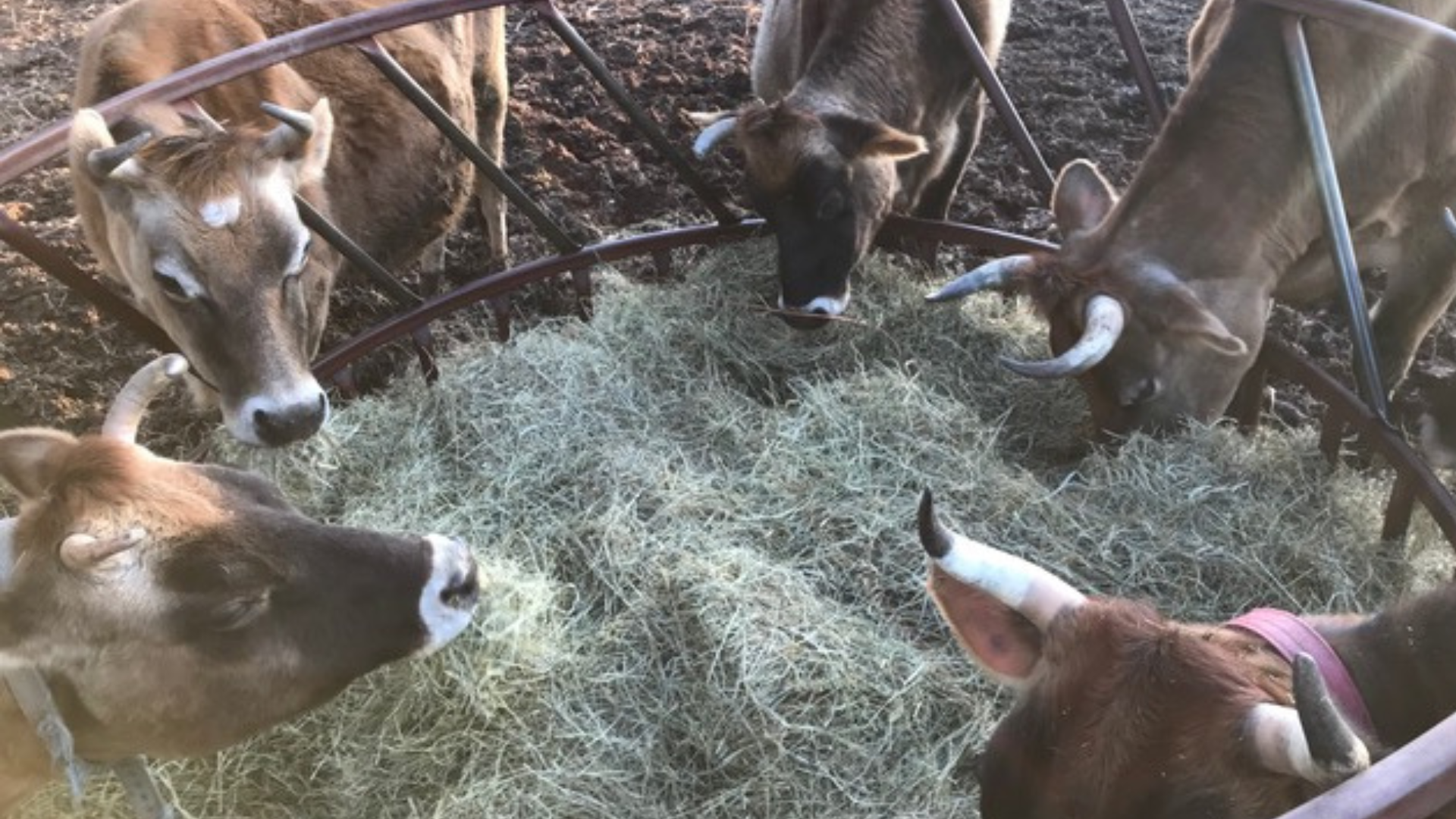 Supper time with matriarch Kavita and family
November Updates and Adventures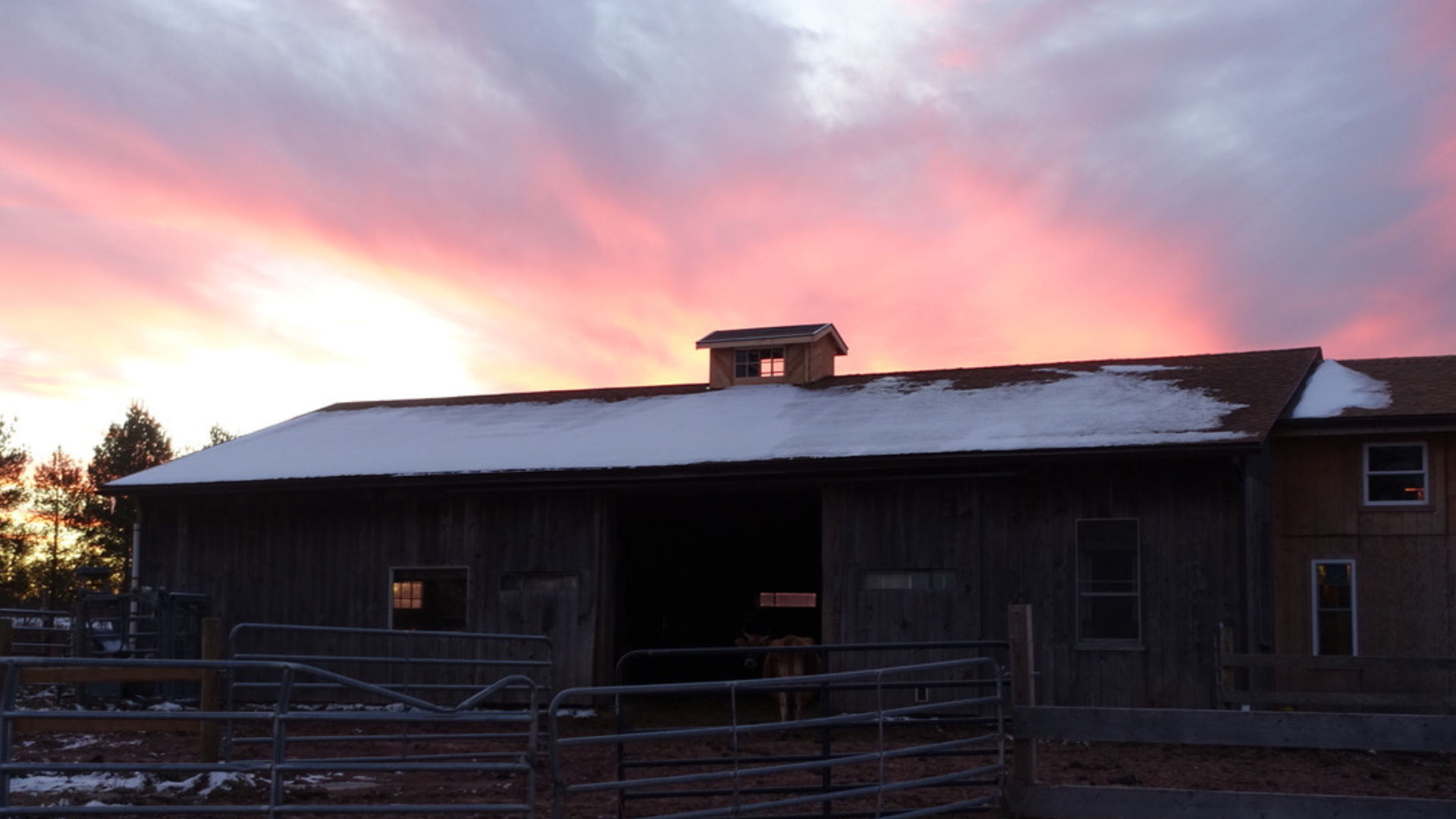 The barn with new cupola.
The cows are settling into winter well, thanks to their extra fuzzy winter coats. With snow on the ground they are eating hay. We are so grateful for the donors and Adopt A Cow sponsors for their contributions to winter feed! The barn has a new addition to the roof; the cupola is finally up. This will bring more light into the barn in winter. We also created a special space for our elder cow Choti. She is having trouble walking, and needs her own space so the other cows don't accidentally bump into her. We are honored to continue providing her loving care and extra attention so she can comfortably enjoy her full lifespan. We continue to work to extend the same compassionate lifelong care to more cows. We hired someone to help with outreach and marketing and will support cows at two additional sanctuaries in the coming year. Our Adopt A Cow program will expand with more regular updates for sponsors.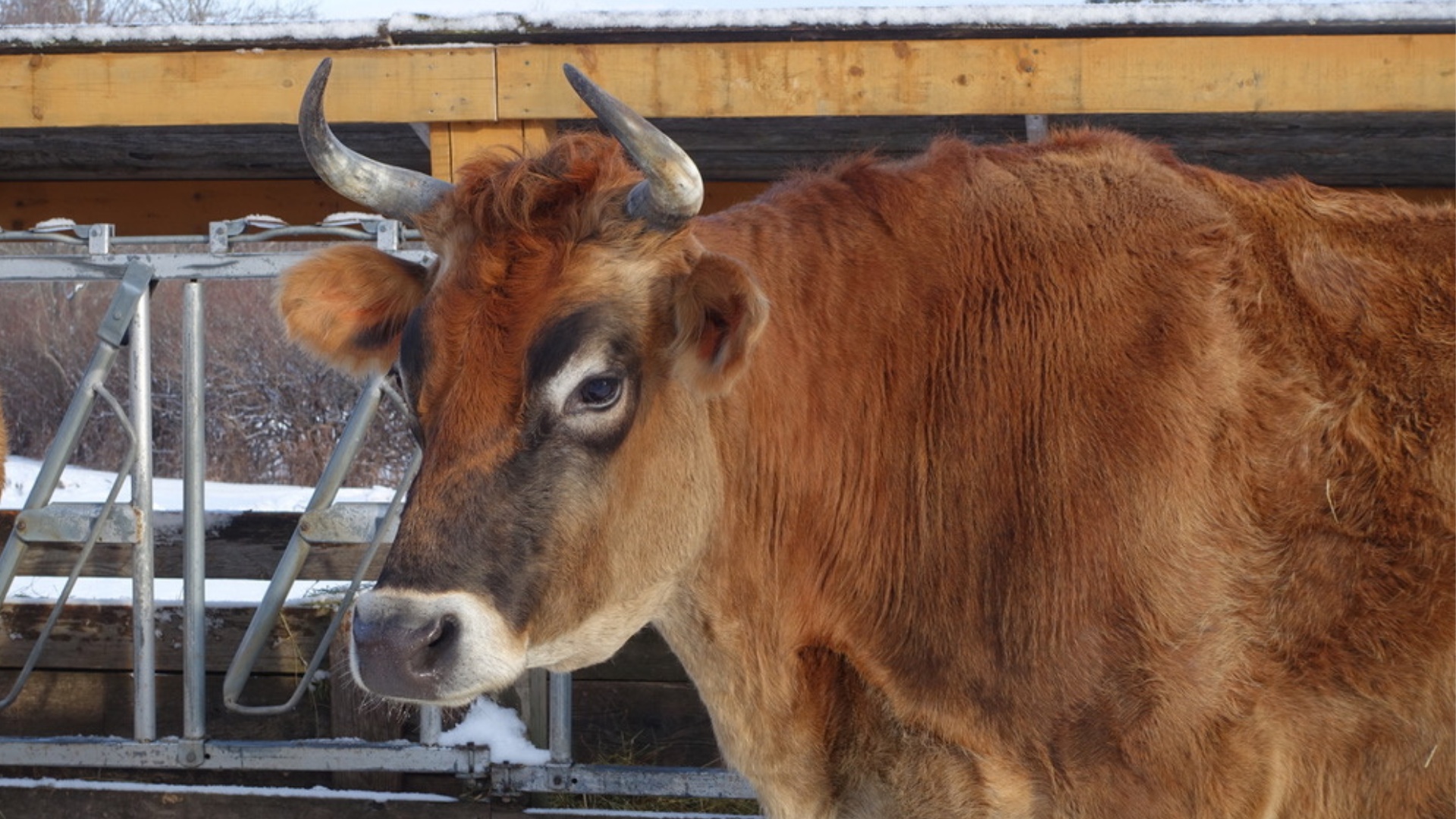 Handsome Neelesh, Kavita's grandson.
The herd is very harmonious. Neelesh, their leader, is a very mellow fellow. They're still adjusting to sleeping in their cozy barn after spending their nights on open pastures under the stars all summer. They are probably missing their night adventures also.  A month or so ago we  learned from our neighbors that the cows had been taking night time strolls. The neighbors saw them a number of times when they returned home from a late shift at 3AM, but by daylight the cows were always back home looking innocent as though they had spent the entire night in one place. This is a very friendly and inquisitive herd, and they decided to go visit the neighbor's house during the day time. A kind officer came to chaperone the cows and was so charmed by them he joined us in guiding them all the way back home. These friendly, intelligent, and occasionally mischievous beings are so deserving of ongoing advocacy.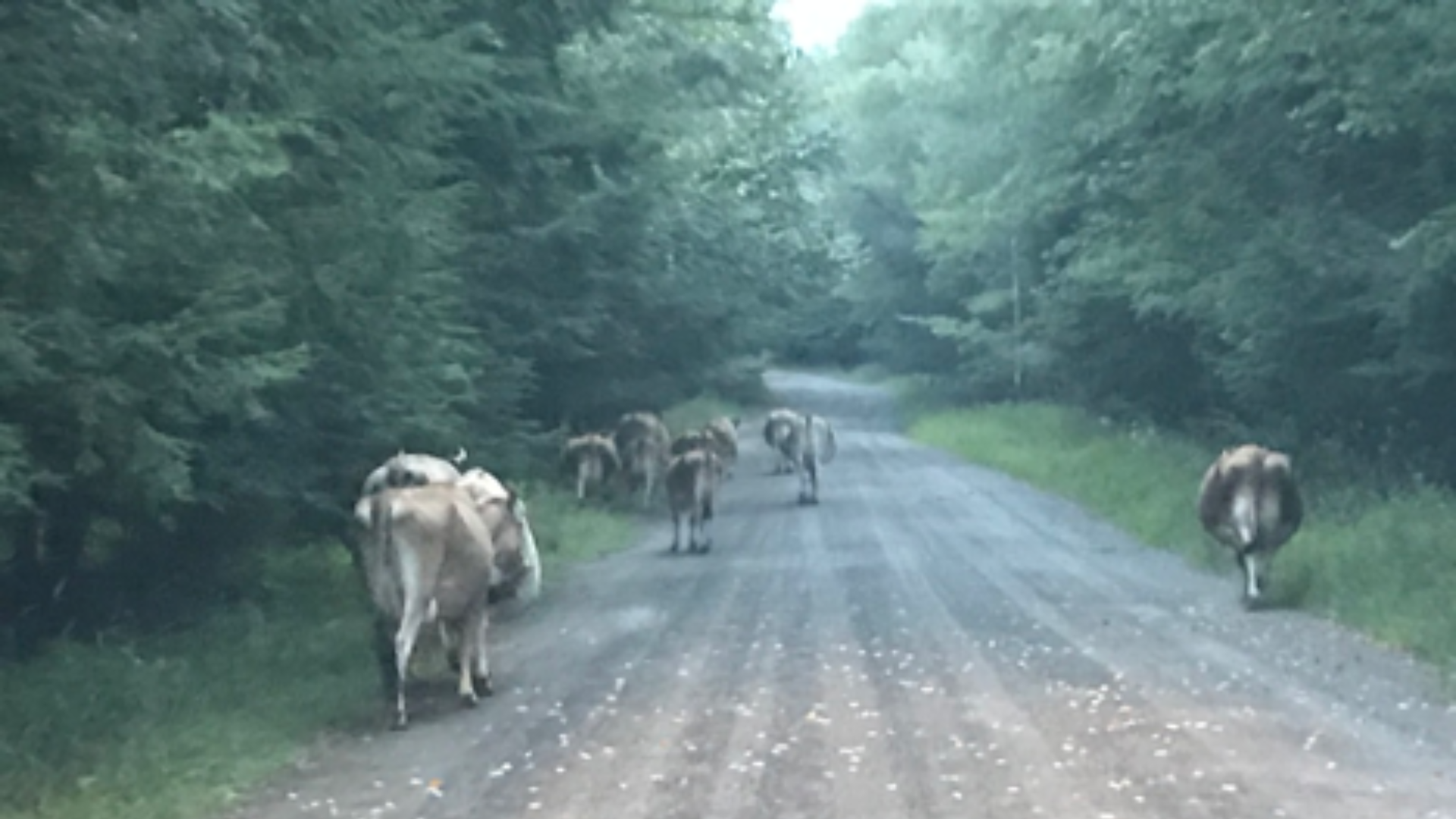 The cows head home after a visit to the neighbors.
We Have A Special Favor To Ask You
Will you help us to expand our community? This Giving Tuesday, we aim to make 1,000 new friends and raise $10,000. If everyone reading this donates just $10, we will reach our goal! We know it's a busy time of year, and not everyone will check their inbox. So please share this fundraiser; think about who you know who loves cows as much as you do. $10 might not seem like much, but together we can make a huge impact.
You can donate here, and invite your friends to do the same.
Giving Tuesday Campaign
https://thecowsfoundation.org/giving-tuesday/
We are so thankful for you, and wish you a wonderful Thanksgiving!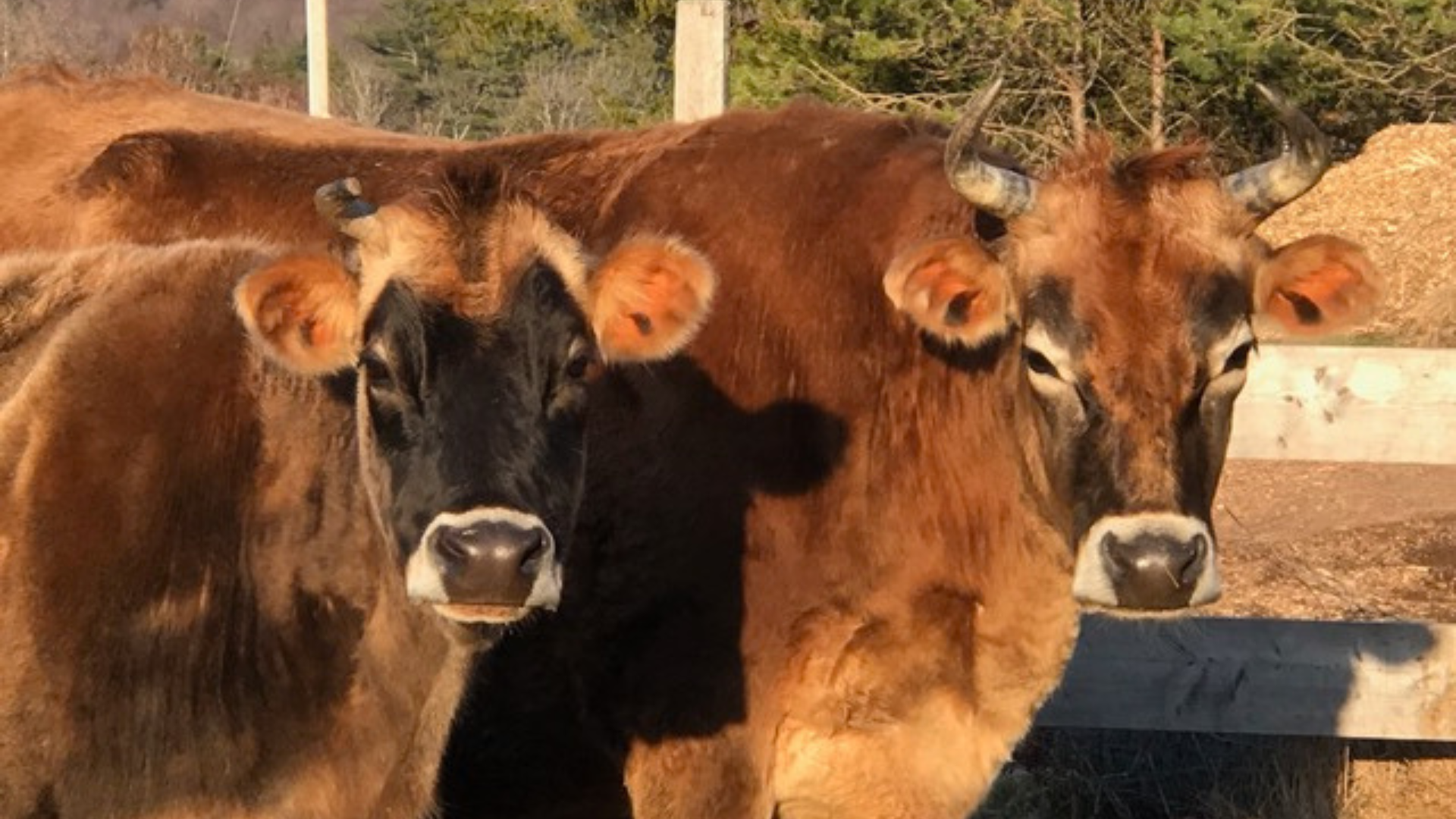 Thank you from Kavita, Neelesh, and all of their friends.